Robert's Photography
Video & Internet Services

Presents
My Pennsylvania Vacation - 2012
Hi Everyone... Just a quick note to say "Hello" to all my friends across the country... and offer some quality photos of my 2012 vacation to Pennsylvania. Believe it or not I invented the guy above many years ago while living on my 45' Powerboat... but he got famous and doesn't talk to me anymore. Typical behavior for a sponge I think :( ANYWAY.....
I went up there for several reasons... one being my class reunion... another to see my kid and grand kids and my other PA friends... and to drive around on country roads with curves and hills and all kinds of interesting plants and animals with the windows up and the
HEATER on just to stay warm and dry and comfortable.
I'll start with some interesting photos from the window seat of my
US Airlines flight to Philadelphia out of Tampa.
Twas cloudy most of the way but cleared up just before landing in Philadelphia Airport.
Stopped by my house (my X's house now) to say "Hi"
and see how things were going. (never a dull moment)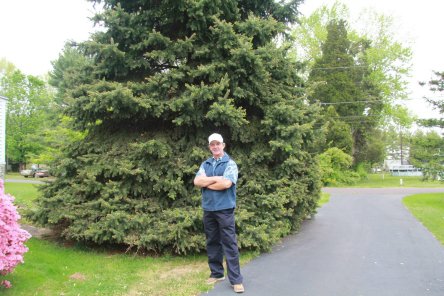 The tiny pine tree that my son and I had dug up and used as a living room Xmas tree many years ago was "cute" by the driveway for many years... but has since decided to take over the entire front yard.
(Photo credit to my youngest grand daughter Michaela :)
A Day with Michaela
I rented a new Ford Escape for my trip and it kept me
very, very comfortable for the entire trip.
One of the first places I visited it the old dead end road where I lived.... to visit the old homestead where I was born and raised.
I know it doesn't look like much to you... but it was home to me for 19 years of my life. It had a spiral staircase that started in the basement and went up to the attic on the 3rd floor. Walls are made of stacked field stone 3 feet thick.
What was my living room floor has now crashed down into the basement. Each time I visit it's a little more depressing.
This is my youngest grande daughter Michaela... I picked her up at home and spent the day with her and gave her a grande tour of Grandpa's life.
Here she is sitting in the doorway that used to lead to the kitchen. The hole in the wall on the left was the bathroom medicine cabinet.
Then Michaela took this photo of me in the old front yard
Hey... check it out. A Robin. Cool :)
While in the old neighborhood... I stopped by the old wooden bridge that was right around the corner... and we threw rocks in the water for 20 minutes. I explained to her that living in the country we really didn't have much to do... but there were always lots of stones to throw.
Another cool place we visited was a place called Indian head Dam
Which was a great place to teach her how to skip stones...
one of my favorite old past times.
A few nice portraits while I'm there near an old mill
Tree roots are exposed from flood waters racing by
---
A casual ride through Valley Forge National Park brought back a multitude of memories.... old times... old cars... old girlfriends :)
(don't ask)
And also produced some nice portraits
A beautiful place on a sunny day... and a great place on a cloudy day :)
Cool revolutionary war stuff everywhere if you ever find the time to visit.
Imagine life in this One bedroom / No bath home in the middle of winter
A quick stop at Target on the way home to buy some extra love :) She's a very creative kid and wanted something to learn. Cool :)
My other grand daughter Taylor is graduating this year. Wow ! Isn't she gorgeous :)
---
A Day At Longwood Gardens
One of the many things I had on my agenda to experience while
in PA was to visit this awesome place called Longwood Gardens
It was a very chilly day... but I went with two high school
friends that visited often and promised to "'show me around".
Penny Webb above... and Linda Sandoli below
Below are some of the highlights of this beautiful adventure. Enjoy :)
---
Aren't these the most awesome bathroom entrances you ever saw? :)
The gardens go on for miles... 1077 acres to be exact
and include several nice tree houses
The Garden Changes almost weekly,
as well as seasonally... any time of year
is a great time to visit !
---
My Class Reunion
Next stop on my vacation agenda was my class reunion. A few of my classmates talked to the high school and asked if we could get a tour of the old school. And there is always a reminder that it is a passage of age.... if you don't screw up too bad !!! I lost my older brother to this :(
A couple of friendly classmates met me at the front door
The inside seemed different
Interestingly... I used to make (cut/fold/louver/paint/box & ship) these lockers when I worked an Penco Products in Oaks before going into the service... However I don't remember this color :(
Our guide through the school that was already decorated for the Senior Graduation 2012... WOW... 2012. Hard to believe I graduated somewhere... waaaaay back in the 1900's :)
Some people never change... " Hi Peggy" :)
Interesting... I don't remember having a "Massage Therapist" in school
I don't remember then having pinball in school either
Nor do I remember gambling tables...
but I guess the school has to make money somehow...
My how things have changed :)
Some fun artwork from the kids
Even the bathrooms were decorated :)
However.. you didn't know who would be in there with you :)
The Theory is: Wearing less improves performance... I agree :)
I found a nice beachy place to hang out :)
Look at me. Long Pants. Long sleeves.
3-D glasses for a long hallway mural
A couple of pictures from the pre reunion party that evening
---
Interesting certificate that I won for making a new friend last reunion :)
---
MudPuppy
Another day of adventure. My son plays guitar in a Rock n Roll Band and asked if I could come over to take some promotional photos while I ws visiting. Nice group of guys. Got some great shots :) My kid is top left on this photo.
| | |
| --- | --- |
| | |
| A few indoor pix in their new band room where they are fixing up the top of a pretty cool barn | This is my kid. Bought him a new guitar and as many music lessons as he wanted when I moved to Florida |
| | |
A few of their friends
A a few really nice promotional photos for the band. Best of luck guys !
---
Last day of vacation I was visiting in this beautifuo house on a hill
with my friend Linda and it was cold and rainy all morning
This is her driveway... and there were 3 deer standing in it when I arrived
It also has this pretty little stream running under it
The back yard. Interestingly different from Florida.
This sized rock is actually pretty normal for this area
A view from the passive solar livingroom
The sun came out so we went for a ride in the country
and skipped some stones
A pretty unique sign I found actually growing in the tree.
Must have been there a long, long time don't you think ?
That evening she took me to her favorite place for dessert. A place called Kiwi's Yogurt where they have about 25 kinds of frozen yogurt and another 25 kinds of sprinkles to add on.
Very yummy taste. My favorite was peanut butter :)
---
Never easy to say good-bye :(

But would you look at those azaleas blooming :)
A pretty uneventful flight home. (that's a good thing)
And someone at the airport waiting for me to arrive... with a sign... just in case I didn't recognize her after a week of vacation :)

" Thanks Marie "

Other Interesting Vacation Photo's
| | |
| --- | --- |
| | |
| Follow these links | To more great Vacation Photos |
| | |
Robert's Photography - Video
& Internet Services

Need a Photographer for your next Vacation ???
All About Englewood Florida
These photo web pages were built with
a screen resolution of 1024 x 768
Need a photographer for your next event ??
Robert Shainline
P.O. Box 906
Cape Haze, FL 33946
---

Pictures of Englewood Florida
pictures of my Pennsylvania vacation
Pictures of canons
pictures of Pennsylvania
pictures of Valley Forge Pennsylvania
All photographs copyrighted by Robert Shainline 2012
Pictures of the band Mudpuppy
Member of the
Boca Grande Chamber of Commerce

photographer in Englewood Florida
Robert's Photography - Video
& Internet Services

Need a Photographer for your next vacation ???